DALLAS GREASE TRAP SERVICES
Grease Trap Pumping & Cleaning
Dallas – Fort Worth – Arlington
Get Scheduled For A FREE Quote In Minutes Not Hours!
We Will Challenge Any Licensed Competitor's Written Price.
Hi my name is Keegan, one of the owner/operators of Dallas Grease Trap Services and we want to earn your business for the long haul.
I'm a proud Dallas resident that loves BBQ, football, and Texas. We started off as a small pumping outfit, and now we're growing into a major grease trap pumping operation in the Dallas – Fort Worth area. We currently have over 10 pump trucks and we're planning to add more.
But enough about me, you've got a grease trap/interceptor that needs to be pumped out.
Give us a call if you need reliable and fast grease trap services at your establishment for anything related to grease trap pumping in Dallas, grease trap cleaning, compliance and regulation questions, non-compliance issues, odor issues, trap plumbing, blockages, grease trap cleaning in Dallas, regular grease trap services, early hour service, grease trap cleaning companies in Dallas, emergency grease trap service…….I think you get the point. Our service team can handle any grease trap and grease interceptor issue.
We're guilty of on-time service, honoring our word, and excellent customer service. We service the entire Dallas, Fort Worth, Arlington metroplex area. Call us to see if we can service you.
Please call if you have any questions about your grease trap or grease interceptor and we'll be happy to tell you what we know.
P.S.
GO COWBOYS!
GET A GUARANTEED CALL BACK
FROM THE OWNER
Grease Interceptor Pumping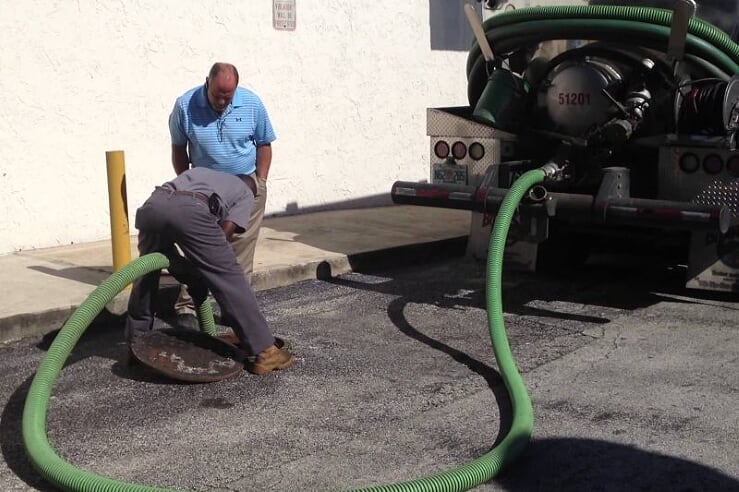 Grease Interceptor Cleaning
Used Fryer Oil Collection
Kitchen Equipment Cleaning
Tell us about your grease Trap Service Requirements
Let's look at your grease trap together for the best results
Our full faith quotes are always free & honored for 30 days
Grease Trap Cleaning in Dallas
Like they always say, you get what you pay for. That's why opting for the lowest cost grease trap service company isn't necessarily the way to go. Here at Dallas Grease Trap & Interceptor Services, it's our business to know our client's needs and to provide a very affordable and expert solution to their grease trap and grease interceptor maintenance requirements.
Do you really want to risk serious problems such as overflows, blockages and poor performance of your grease management systems, all for the sake of saving a few bucks? In addition, such catastrophic mishaps will most likely result in hefty fines for violating local health and safety codes. You may even be forced to involuntarily close in order to resolve the issues caused by faulty pumping, cleaning and maintenance performed by an incompetent contractor.
If you opt for choosing Dallas Grease Trap & Interceptor Services, you can have the confidence that you are partnering with only the very best. With our vast knowledge and expertise, you will be assured that you are dealing with the one of the most trusted and eco-friendly companies in the business. Let us prove it to you!
Dallas Grease Trap Services is your full-service partner
Our staff consists of trained experts in the field of grease trap and interceptor maintenance. So you don't have to stress over your current grease trap or interceptor needs.
Local health and safety codes mandate that you are required to keep meticulous records of all service and maintenance performed on your grease management systems. That's where we come in. We do the record keeping for you. We carefully log each and every service we perform and even keep all the records on file, in case you ever have the need to access them in the future.
We will consult with you so that you stay apprised of the mandated maintenance schedule required by your local health and safety codes. In this way, you will know you are always in compliance with Dallas city code requirements, freeing up your valuable time for more pressing matters, while leaving the legal headaches to us.
In addition to the peace of mind you will find by partnering with us for your grease trap and interceptor needs, you can rest assured that we pledge to:
Conduct our services in such a way to avoid disrupting your normal business activities.
Recycle your waste products to be used as soil edification in appropriate agricultural applications, as an alternative bio fuel to generate electricity or power vehicles, or even as biological means of producing methane gas.
 Dispose of all wastes which cannot be recycled in licensed, environmental friendly disposal sites according to law
 Stay informed about the local applicable laws and codes so that you will never have to worry about compliance issues, so you can go about your normal daily business activities.
We compile and maintain all required records related to grease trap and interceptor services we perform on file. You have complete access anytime the need arises.
We consult with you on a regular basis to keep you apprised of your grease trap and interceptor maintenance needs to help your operation run smoothly, without needless hassles you may have overlooked
Let's talk about your grease trap.
While it may not seem apparent, the grease trap installed on your premises is beneficial to you and your food service establishment. Of course, the whole purpose of your grease trap and interceptor is to protect the environment and city sewage system. But let's talk about how it affects your operations. First and most importantly, your properly maintained grease trap and interceptor will keep you out of hot water with the health and safety officials. On the other hand, if you choose to put the proper care of your grease management systems in the back seat, all bets are off. This is why it's important to stay on top of the regular service and maintenance of your grease trap and interceptor, by implementing our expertise in partnership with you.
Restaurant grease traps are our specialty.
Operating a food service establishment is quite different from how a home kitchen operates. Due to the fact that you are serving food to the public, your responsibilities go way beyond a typical kitchen. You need to watch out for the health and safety of all involved, including not just your guests, but your employees as well as the public, particularly, your neighbors. Any overflow or sewer pipe blockage can create legal violations with real consequences.
While your grease trap installation is beneficial to your establishment, in the vast majority of cases it is mandated by health and safety codes. That's why it's crucial that you partner with us, Dallas Grease Trap Pumping Service to provide the proper maintenance services you need to bring you the peace of mind that you deserve.
Without the help of professionals like us to perform the required maintenance services on your grease trap system, you risk putting your food service establishment at unnecessary risk of being in serious violation of health and safety laws. Let us show you how.
At Dallas Grease Trap and Interceptor Services, we have an entire team of experts equipped with a complete fleet of pump trucks to serve all your grease trap pumping and cleaning needs. Why don't you give us a ring today to receive a free consultation on what you need to get started to be on the road to a cleaner and happier food establishment! We can be reached at 214-617-1500.
What are the benefits of partnering with Dallas Grease Trap Services?
We can save you money by enrolling you in one of the many price plans that we offer. There are so many variables that affect the cost of serving the needs of a diverse spectrum of clients, and that's the reason we introduced service agreement schedules that fit your individual needs, so that you can have peace of mind and just deal with your normal day to day business activities.
All the required reports and related paperwork are completed, filed and kept in a safe place by us. This is part of our typical daily activities. That way, you don't have to be bothered with the seemingly mundane compliance with the Dallas city health and safety authority codes and regulations.
Our most valued clients are those who stay with us long term. For that reason we offer those customers special discounts on grease trap and interceptor services.
We offer a special deal to service those establishments which have more than one location.
We have a great reputation with establishments we serve and are often complimented on our expert team of licensed employees. We value the praise we receive.
We also offer grease trap services in Houston, TX through one of our trusted partners.
Be careful - Don't let your grease trap get to full capacity.
There are many reasons why you should never let your grease trap get to full capacity. Among them are:
● Health and Safety Concerns. Not only does a full grease trap lead to poor air quality, you run the additional risk of a greater possibility of fire in your establishment.
● That Brings Us to Terrible Odor. When your grease trap becomes at full capacity, the stench of the rancid greases, oils, and food solids will start to fill the air with your establishment. That, in itself, can cause clients to dread even entering your restaurant, not to mention eating in such an environment.
● The Wrath of Health and Safety Officials. The fact that the air in your establishment stinks may result in complaints to local health and safety authorities. If that's not bad enough, full grease traps often overflow into the local water and sewage system which in most cases will result in steep fines for code violations.
How does the process of grease trap pumping work?
One of the biggest reasons your regular employees should not attempt to pump your grease trap, besides lacking experience, is that they also lack the specialized high-powered pumping equipment that our team is equipped with. Even if they had access to the proper gear, it's highly doubtful they could actually utilize it without the needed training and expertise. It is a wise call to get help with your Seattle grease trap pumping. We are the professionals for "grease trap cleaning near me" you can call any time. We will come to your kitchen, measure the level of fat, pump it out, and dispose of it safely. Then, we'll make sure that all the parts of your grease traps work properly and take care of all the paperwork.
Let's start by a free quote. We'll let you know what you get for the price, and you'll be able to make an informed decision about your grease trap cleaning service. There is no risk in calling and talking to us. Some other issues that need addressing include:
Assessment. The exact amount of greasy waste material must be assessed before removal is attempted. This accomplishes two purposes. Firstly, it assures us that we are properly prepared with adequate equipment to do the job effectively. Next, it serves as a guideline for determining if your maintenance schedule frequency possibly needs to be increased or decreased.
The Actual Pumping. Of course, the heart of the matter is getting the grease, oil and fat removed. This is accomplished by lowering a suitable suction hose into the grease trap to remove all the waste material. After we collect it, we will then determine if it is fit for recycling or if it must be disposed of in an eco-friendly facility.
The Final Cleaning. To get your grease trap to perform up to specs, it must be cleaned. This involves removing the thick, sticky residue which covers the sides and inner edges of the grease trap. The next step is possible testing of the sludge ingredients to assess if the grease trap is operating normally.
Are you convinced? Even if you're not sure, you should give us a call for a free preliminary consultation to answer any of your concerns and set up an appointment, so we can make a full assessment and give you a free quote for the exact services that you need. We are the experts at grease trap pumping and servicing in Dallas, so please give us a call so you can learn about the ways we can help you. There are no commitments when you call us you can't go wrong with that. We can be reached at 214-617-1500. Call today!
Grease interceptor cleaning and pumping in Dallas, TX
Most imagine a grease interceptor to be just a large grease trap, similar to those found installed under any commercial kitchen sink. Grease interceptors are an integral part of any modern industrial kitchens' sanitation system as well as crucial in the integrity of city's water and sewage systems. Grease interceptors are installed outside, in proximity to the kitchen, usually underground and out of sight. All grease, oil and food solids waste are trapped and stored in a 750 gallon, or even larger capacity, reservoir, protecting the city water supply and sewage system from harmful pollution and contaminants.
The design and efficiency of grease interceptors can vary widely. A thorough evaluation of many conditions and variables is needed before the installation can be initiated. An improperly installed system can reduce the efficiency to as little as a 30% interception rate; while a properly installed system will assure maximum efficiency of up to 85% or even more. While the latter is the highest achievable goal, it is also critical that you stay on top of required cleaning and maintenance to keep it that way, so it is always operating up to standard.
According to the experts, it is required to thoroughly hydro-jet the main components at a rate of the least once or twice each year. Of course, this depends upon precisely the grease, oil and food solids content and quantity of the food being prepared. It's better to clean the grease interceptor at shorter intervals than to possibly be too late, as the cost of being too late can be expensive and time-consuming, often blocking of the plumbing or even needless and costly fines and/or closures by the Dallas city health department for violation of the health and safety codes.
How does the pumping and cleaning process work?
A novice may imagine a grease interceptor to be one big chamber to catch all the grease. But in fact, there are many components including many interconnected chambers, each with their own manhole. This greatly increases the efficiency of the system and makes it almost impossible for any overflow of waste to occur. However, with such a system of irregular chambers with nooks and crannies, the greasy and/or oily waste tends to accumulate on the sides and edges; this is by design. There is an issue that it does make the process of cleaning and pumping the grease interceptor a bit more complex than simply washing and pumping.
First, for a proper cleaning sequence, all contents must be removed from each chamber. As you can probably imagine, densest and thick grease deposits will naturally settle to the very bottom and the less dense water on top of all that. The use of state-of-the-art pumps is utilized to quickly and efficiently remove all contents of the tank before the final hydro-jet cleaning process can commence. This procedure makes use of a high-powered spray of water, up to 3500 PSI, to blow away the thick, sticky waste from all affected areas of the grease tank.
GET A GUARANTEED CALL BACK
FROM THE OWNER
Affordable & Reputable Grease Trap Services