GREASE TRAP INSTALLATION IN DALLAS
Dallas Grease Trap Installation
Grease Trap Installation Services in Dallas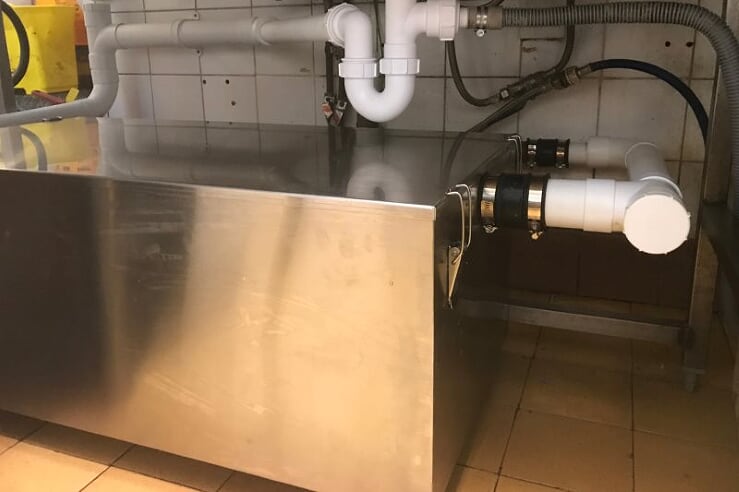 One of the requirements for foodservice establishments in Dallas is the installation and maintenance of some type of grease trap. This is written into the city health and safety code, to protect the environment and city utilities.
During the preparation of many foods, FOGS (fats, oils, grease) are created. This must be disposed of properly because if it's allowed to enter the sewage system it can cause serious disruptions. This is where a grease trap comes in. A grease trap does exactly as it says in the name it collects grease so that it cannot enter the sewage system. It's important to periodically pump out the waste materials in the grease trap to prevent overflow or leakage into the city sewer system. This could even cause an emergency shutdown of your kitchen as well as harsh fines.
Here are several types of establishments that often need a grease trap:
Restaurants
A café located at a place of employment
A school hot lunch kitchen
A kitchen at a hospital or special needs care facility
A church kitchen preparing meals for the public
If your food-serving establishment falls into any of those categories or even others, we can set you up with a grease trap installation that fits your needs.
How to determine the size of grease trap you need
There are several variables which will determine the size of grease trap you require, including:
Are you located within Dallas or an unincorporated area?
What are the specific kinds of food you will prepare?
How big is your food preparation area?
What type of grease will you be using?
Regardless of these factors, we can assist you by installing the properly sized grease trap the city of Dallas requires. We will consult with you and determine the most efficient and compatible system for your food-serving establishment.
Grease traps versus grease interceptors
Generally speaking, both of these systems are technically a grease trap, however,
which one suits your requirements depends upon how much waste grease you produce. For most food serving establishments, the relatively smaller grease trap that is typically around 200-gallon capacity will be all that is required. These are installed under the sink so installation and maintenance are simple enough that a skilled individual could possibly do it, but this may result in leaks and other mistakes.
Fairly large establishments will usually require a grease interceptor, as it can handle much more waste. However, the installation and maintenance is not as simple. The plumbing system is customized for the individual needs of the establishment. Grease Interceptors are placed below ground, and their capacity is typically 500 or more gallons, so the pumping equipment and methods are totally different.
Depending upon the volume of FOGS you produce and the size of your food preparation area, it's possible to install a grease trap to completion within one day. The price is relatively low, compared to the much larger grease interceptor. But the trade off with this smaller system is the scheduled intervals between pumping will need to be shorter, due to the relatively small capacity.
The installation of the larger grease interceptor is much more complex, because of the logistics of excavating a cavity in the ground and running the plumbing from there to the sink located inside the building. For this reason, installation could possibly take over a week, and be quite a bit more expensive than a grease trap located under the sink. The benefits may outweigh the time and expense, as your scheduled maintenance will typically be no more than four times per year due to the massive capacity.
Now, we just need to determine:
Based on the type and amount of food you are cooking, how often will pumping be needed?
Do you have the time and resources for the excavation required for a grease interceptor?
What will be the final cost of installation in Dallas?
This is not an easy question to answer, as due to different needs and circumstances, the price can vary widely. On some lots, the grease interceptor can be installed right next to the establishment, saving you a bundle on plumbing hardware and installation. On the other hand, it may not be possible to place the tank near the building, so in these cases, the price will be higher.
Let's look at some known figures:
The total cost to install a grease trap is $2,500 or more
The total cost to install a grease interceptor is $15,000 or more.
These figures will give you a limited idea of the price for the kind of system you want. Usually, a large hospital, school, or commercial foodservice establishment will require the installation of a grease interceptor. Smaller operations, such as a mom-and-pop diner or café, will do fine with a grease trap.
While we tried to explain the size and type of grease trap system you need for different commercial food kitchens, there are no easy explanations. We charge nothing for a full consultation to figure the precise cost and time it will take for your individual circumstances. Please give us a call today, so we can get you started.
We also provide full service pumping and cleaning for all grease trap and interceptor systems. We try to schedule our pumping, cleaning, and installation when you want it. We try not to interfere with your business, so that you can focus on your customers. So why not give us a call right now? We can be reached at 214-617-1500.
GET A GUARANTEED CALL BACK
FROM THE OWNER
Affordable & Reputable Grease Trap Services