GREASE INTERCEPTOR PUMPING IN DALLAS
Dallas Grease Interceptor Pumping
Grease Interceptor Pumping Services in Dallas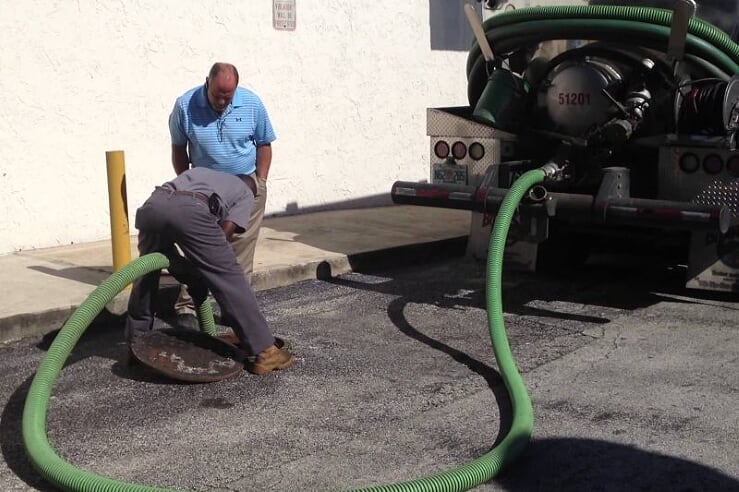 Dallas, Texas, is recognized as having an exceptionally large number of food service establishments per person. This means that for grease interceptor service companies, many opportunities exist to reach out and help commercial kitchens stay worry-free concerning their grease trap systems. Dallas Grease Trap Services has established a top-notch reputation for being the best in the region.
Without modern grease interceptors, the city's sewage system would be choked with massive amounts of fat, oil, and grease (FOG) flooding the system each day. The sewage system would eventually become overwhelmed. Through ingenious engineering and experts' hard work, these devices effectively trap FOG contaminants before they can even reach the sewer pipe. The law requires this for the protection of the city's sewage system.
Scheduling maintenance for your grease interceptor.
What kind of schedule should I maintain to properly keep my grease trap within compliance of the law?
Local authorities are dead serious about preventing FOG from entering the sewage system. Any blockage caused by these contaminants, as well as any oil spills, are almost certain to be met with stiff fines or even forced closures until compliance is met. Your maintenance schedule depends upon your containment enclosure's size and the amount of greasy food you are preparing. Of course, if you're operating a restaurant catering to vegans, the interval between cleanings will be drastically increased.
Because of these differences, your food service establishment could require monthly pumping and cleaning if you prepare food using lots of grease. You may just need to pump it twice per year if you seldom use grease or oil for your food preparation. Most jurisdictions require that your containment tanks never exceed 30% of capacity. So, the rule of thumb is to pump and clean it when yours reaches 25%
Due to the increased risk of an overflow of grease into the sewer system or the environment when the grease trap tank capacity reaches 30%, a 25% industry standard was implemented. Keeping the amount below the 30% threshold is a prudent safety requirement to avoid problems later down the line.
You should always keep this figure in mind as the point to empty your grease interceptor. After all, even in very large tanks, the 25% rule will still apply, at least in the eyes of the Dallas health inspectors, who are quick to issue fines and penalties the moment your tank goes above 30%.
What should the schedule be for grease traps?
Due to the fact that many food preparation establishments require only an indoor grease trap, the intervals between cleaning should be much less than for outdoor interceptor tanks of much higher capacity. Indoor grease traps of five to fifty gallons are often used by small, neighborhood establishments. These tanks' small capacity in relation to the large capacity of outdoor grease interceptors means these tanks should be scheduled to be pumped and cleaned at least once per month, if not sooner.
What about the scheduled intervals of underground interceptor traps located outdoors?
Large food service establishments find it impractical to install the 750 to 5000-gallon grease interceptor tanks within the building walls. For this reason, they typically opt for installing them outdoors, as this also makes room for more complex plumbing and, of course, the massive tanks themselves. Although it is quite an additional expense and more time-consuming, there will be big savings on maintenance, since such a large capacity grease interceptor tank requires upkeep only two to four times per year.
My grease interceptor or grease trap is just not working as well as it used to.
Let us Solve That Problem with Our Hydro Jet Cleaning Service!
When a grease interceptor system is first installed, it is perfectly clean and free-flowing. At first, utilizing a tank pumping service works to get it back to like new operating conditions. After a time, grease waste deposits build up on the sides, the bottom and even at the openings of intake and drainage plumbing, leading to increased frequency of blockages which eventually may lead to hazardous and costly overflows. This cannot be remedied by simple pumping.
With our hydro jet cleaning system, we blast away any deposits through the use of massive water pressure, up to 3500 PSI. This easily blows away any layers of thick, sticky deposits that grease leaves behind. When this is scheduled to be performed periodically, your grease interceptor system will always be operating just like new.
GET A GUARANTEED CALL BACK
FROM THE OWNER
Affordable & Reputable Grease Trap Services